iuviBANKING
Accelerate your time-to-market with micro frontend-based digital solutions that modernize the banking experience
An open, cloud-first mobile and online banking platform, iuviBANKING empowers your institution to deliver meaningful digital transformation. Leveraging the flexibility of open API access and end-to-end micro interactions, iuviBANKING enables you to create configurable user experiences to quickly meet the evolving needs of your unique customer or member base.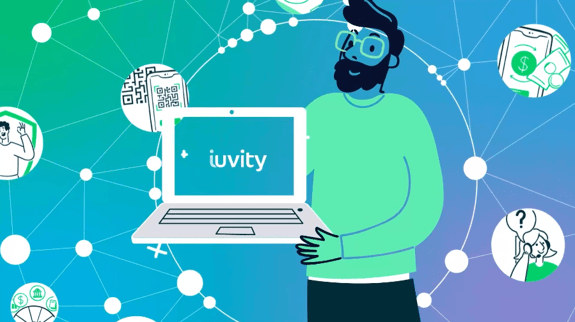 iuviBANKING BENEFITS
Comprehensive, flexible and modular digital banking
Deliver a unified banking experience across online and mobile channels
Quickly adapt your digital offering with flexible delivery models
Accelerate time-to-market with configurable, micro-frontend architecture
Easily scale with native, cloud-first solutions
Innovate rapidly with access to iuviOPEN's 300+ APIs
Achieve greater digital adoption and improve KPIs
Retail, SMB, Corporate, and Wealth
API-based, Flexible, and Modular
IDEAL FOR CONSUMERS
Cloud-first digital banking solutions designed for modern consumers
Empower your customers and members with the intuitive and personalized digital experiences they can depend on to seamlessly engage with your institution to better manage their financial lives. iuviBANKING offers comprehensive digital banking for consumers, including:
Account Balances
Transfers
Mobile Deposits
Bill Pay
View Statements
Endless digital possibilities
iuviBANKING's open, flexible, modular approach makes it easy for our clients to extend and offer new features through APIs and the flexibility to boldly innovate and position themselves as digital leaders in the communities they serve. In addition to enabling the basic functionalities necessary for today's digital consumers, iuviBANKING coupled with iuviNOW offers additional digital engagement capabilities:
Talk to an agent (chat, phone call or video)
Co-browse, share documents
Schedule meetings
Request e-signature
Product and preference management
Single set of login credentials (through SSO)
Alert and notification services
IDEAL FOR BUSINESSES
Intuitive digital cash management for businesses
Our solution was born as an API-based architecture, designed to support peak transactional volumes to meet the needs of local and regional businesses of all sizes, from small and medium businesses to corporations with operations in multiple geographies. iuviBANKING Business and Corporate Banking solutions offer financial institutions the flexibility, configurability and controls to deliver the secure, comprehensive features unique business users need to efficiently manage their finances from anywhere on any device.
Grouping of Account Balances
Account search
Transactional history, filtering and record search
Transaction file downloads
Flexible entitlement engine
Multi-currency support
Multi-language support
Multi-company support
Granular account access control and limits setting
User Management (self-service)
Role based account access and limits
Role based feature access
ACH collections and payments
Wire Transfers
ACH / Wire bulk file processing / templates
Custom bulk file format support
Bill Pay
Remote Deposit Capture
Integrations with 3rd. Party accounting software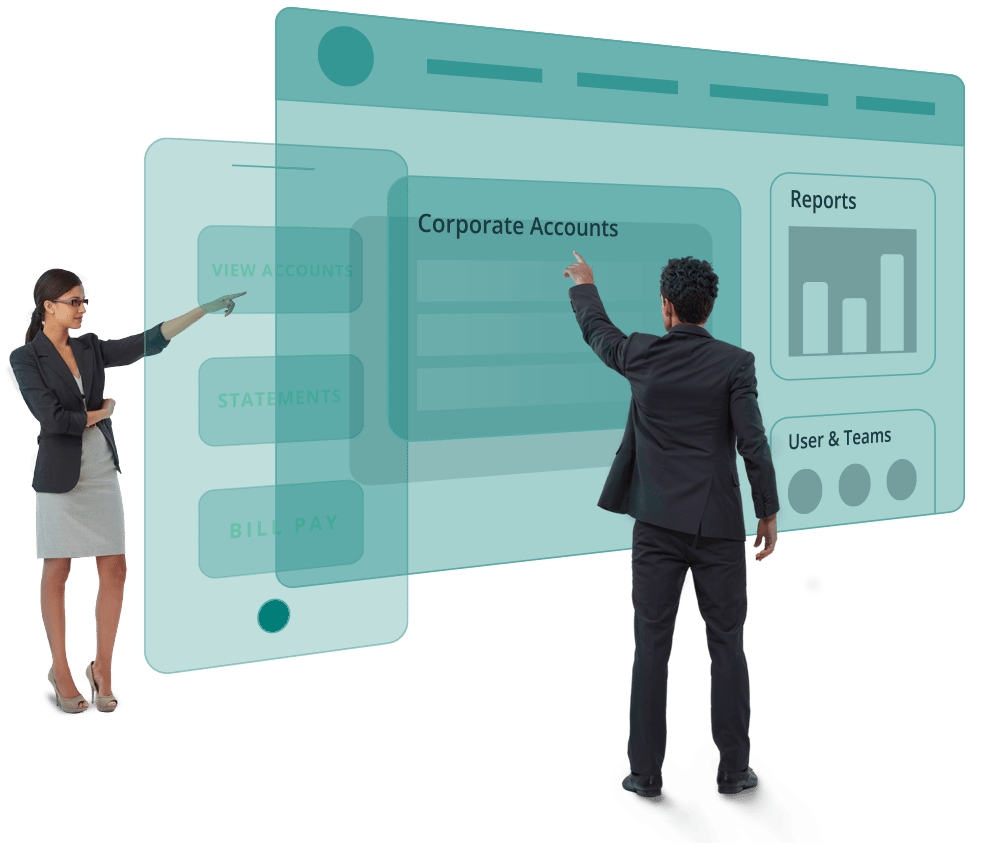 Grow your commercial business
The iuviBANKING Business and Corporate Banking solutions offer a wide set of capabilities for financial institutions and their customers to help them grow. In addition to enabling the basic functionalities required, our solutions also offer additional capabilities such as:
Cash-pooling
Linked accounts
Custom bulk file processing
ACH collection and ACH payment
Regional transactions (closed network)
TOUCH
Focus on Cash Management
Focus on Cash Management
Developed to support the varied cash management needs of small to multinational businesses
TOUCH
Agility
Agility
Designed for efficient change to allow the incorporation of new capabilities and continuous innovation
TOUCH
Human Interface Layer
Human Interface Layer
Available on mobile and web, iuviBANKING offers a fully customizable UI so you can deliver meaningful omnichannel experiences
TOUCH
Flexibility
Flexibility
Easily adapt to your FI needs with out-of-the-box, multi-currency, multi-language and multi-region capabilities, supporting a wide array of customer banking services
TOUCH
Entitlement
Entitlement
Robust, multi-tiered administrative model and user-friendly configuration that provides company administrators with the necessary tools to control account access, monetary limits, approvals and more
TOUCH
Service Administration
Service Administration
For better customer service and more efficient management, iuviBANKING allows financial institution staff to focus on specific customer follow-up and support tasks
MORE SOLUTIONS
iuvity Digital Banking solutions
iuviPROFILER
Fraud
Prevention
iuviNOW
Digital
Engagement
iuviOPEN
Open Service
Platform
OSP - OPEN SERVICE PLATFORM
Our Open Service Platform (OSP) is highly secure, flexible, configurable, and embedded finance ready, enabling you to quickly deliver better banking experiences
OUR CLIENTS
Together we accelerate digital transformation
Our collaborative approach means we are always listening to our clients, the market, and partners, working together to help financial institutions and fintech companies create scalable, secure digital banking ecosystems that affect positive changes in the communities they serve.
USA




MEXICO




COLOMBIA

ECUADOR

PANAMÁ

PERÚ




Contact us
We'd love to learn more about your digital banking journey. Leave your contact information and one of our digital experts will contact you shortly.
Subscribe. Let us surprise you.
Receive insights, invitations to our virtual and face-to-face events and content about our new solutions.